Happy Thursday, friends! I'm fist pumping today, because it's my Friday at work. :) With Thursday comes this week's edition of The Good, The Bad, and The Ugly. Head on over to
Aly's
or
B's
to join the f-u-n!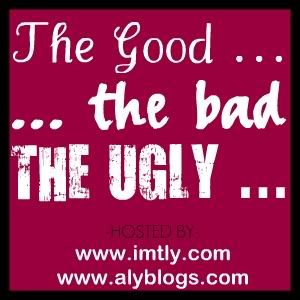 The Good: I have a sweet work schedule. Tuesday, Wednesday, Thursday (and every other Friday) from 6am-6pm. Do the math-that's 36 hours one week and 48 hours the following week.
The Bad: I'm usually exhausted by the end of my work week.
The Ugly: I get up at 4am with this schedule and roll into work every morning makeup-less ;)
The Good: I'm so happy we've figured out our fertility problems, and couldn't be MORE blessed to have found our wonderful physician.
The Bad: For the first time in my life, I've actually had to use my insurance and meet my deductible.
The Ugly: Our coverage SUCKS, as my pocketbook has learned the hard way.
The Good: During a commercial break on Idol last night, Alan and I discussed what sort of "professions" I'd be good at based on my spiritual gifts.
The Bad: Alan answered, "A mommy and a dog walker."
The Ugly: Without winning the lottery, this is absolutely impossible.
The Good: I've been very diligent about my workouts at the gym and my calorie intake this week.
The Bad: ....tomorrow night is girls craft night at my house: Valentines edition.
The Ugly: One friend has already confirmed that she's bringing a Rum Cake, yum! (I suppose this could be the "ugly" or the "good" depending on how you look at it)