Thank goodness it's Friday, huh?! I'm ready for this week to be over, I'm just needing a little time for an attitude adjustment this weekend. I have made a conscious attempt to not whine, complain, or dwell on the side effects from my Lupron treatment. I failed miserably this week. I've only complained to y'all, but I haven't felt like my normal, bubbly self all week. Tiredness has taken over my body--in some ways, I suppose this treatment is getting my body ready for the sleepless nights of an infant (at least, that's what I'm hoping!) I'm just ashamed that my tolerance level has been so low this week with those around me. :(
With all that gloominess being said, I have high hopes for this weekend!
I picked up an overtime shift at work tomorrow, hoping to make a little extra cash for our cruise. Sunday is church day and FOOTBALL day! We're planning on watching our Steelers win from the comfort of our living room. I am planning on making typical tailgating football food for our own little party.
And, the last but not least most random thing on my mind....I've talked with my darling husband. He said, "YES," when I asked him about this......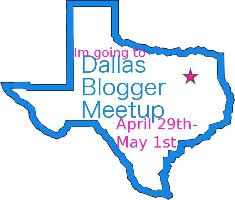 So, even though I'm an Oklahoma girl, looks like I'll be attending the Dallas Blogger Meetup!
PS: I make a pinky promise with all y'all to have a much more positive week next week full of fun, girly things! :) I know you'll hold me accountable.